Certified to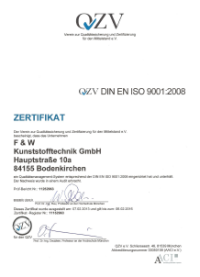 DIN EN ISO 9001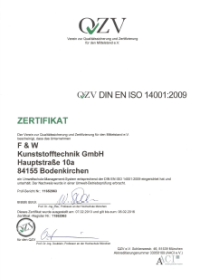 DIN EN ISO 14001
Company
The History
1994
Establishment of the company.
1995
First serial order from the automotive industry.
1996
Change of name F&G Kunststofftechnik GmbH.
1997
New location in Bodenkirchen.
2000
Increase in business volume.
Staff increase of 30 employees.
Certified to DIN EN ISO 9001 and DIN EN ISO 14001
2003
Expanding of the product portfolio.
Staff increase of 30 emloyees.
2005
Partner Kunststofftechnik Wiesmayer GmbH involved itself on F&G Kunststofftechnik GmbH.
Change to company name in F&W Kunststofftechnik GmbH.
2010
Investing in a Foil-laminate-machine.
2013
Investing in a new Micro-quantities-foaming machine.
2014
Installation of an internal tool construction department for laminate-tools.